Our Co-Researchers became farm animals, we asked them to find places in the museum they would like to see or hear animals. The pictures below show Guillermo, Skye and Rachel getting ready and the whole group in the museum. There are lots of machines in the museum, there are some photos of animals and lots about horses. We couldn't find many places where cats and dogs might be except in some old black and white photos on the side of the victorian picture display, we found a chicken in the toy farm displayed in the museum. Rumena was a sheep she found some sheep shearing tools and a picture, we are discussing making a sheep that visitors would be able to record their own 'Baa' and hear everyones Baas if the stroke the sheeps head. Rachel and Skye had seen a film about chickens at the weekend called Free Birds, Rachel was very good at acting like a chicken. Skye became a cat and later a pig, while Guillermo was very good at being a dog.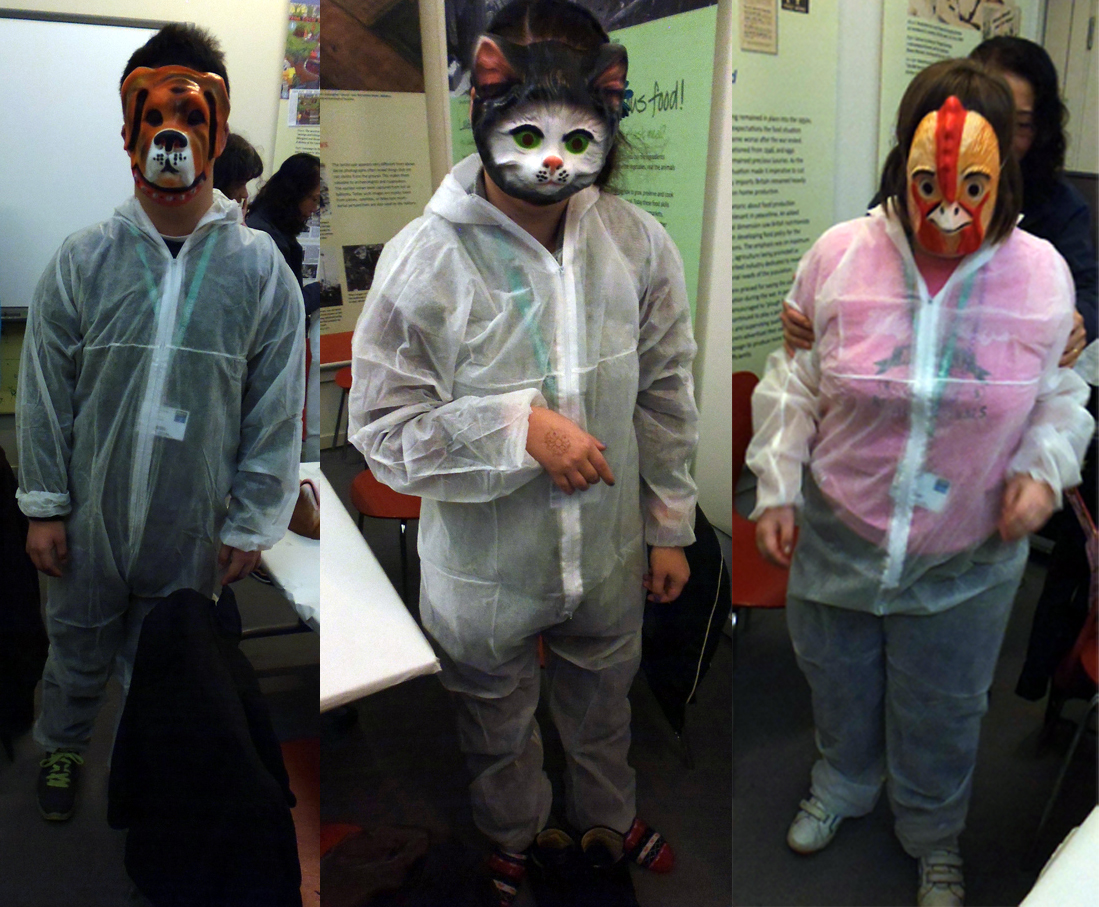 The image below shows Rachel with the invisible horse as a horse, this is where we would like to hear the sound of horses. We have been exploring some press sensors that could trigger sounds we wondered if we could place the press sensors under horse shoes so if a visitor stood on them it would trigger the should of a horse and cart.
The picture below shows Sian as a cow Sian enjoys mooing and Luke as a duck, Luke had written about the sounds ducks make on his suit. We let the group have decorating suits as we were doing lots of messy things during our workshop but everyone enjoyed wearing them while becoming an animal.
We also prepared some paper mache balloons ready for next week, the group work hard and were very focussed on covering their balloons, we hope to turn them into either eggs, heads, animal bodies or speech bubbles? We will find out next week.
Next we turned our drawings of Old MacDonalds Farm into paintings on canvas so we could add them to our boots, baskets or buckets. The pictures below show Rumenas drawing and painting of a hen, Sian drawing Old MacDonald with a painting of a green and yellow tractor, Rachel drawing a chicken and Lukes painting of a duck.